"Nas....a hard core Hindu extremist who likes porn and public humiliation of Nepali women on the internet" - Vhootee

"you have invariably dared to reveal your worthless upbringing and constantly failed your parents amidst public eyes. I sympathize them. But on the other hand, I wonder if they actually had something to do to make this lecherous monster out of you" – john galt
"As much as I loathe Nas when it comes to pornography and lewd remarks, I equally admire him for his creativity, profound knowledge and versatility pertaining to the threads he initiates. If you go through the content of his other threads other than the one that are porn-related, he writes and validates his arguments in such a style, it takes light years for you guys to imitate it." - Jet Favre

"Reading your different posts through-out the years, I always wondered if there was a heart underneath that rude & crude machismo exterior that you like to strut around sajha. I didn't think there was anything in the world that could appeal to that heart of yours. So I am amazed, astonished, humbled to see that an emaciated body of a fellow Nepali could reduce someone like yourself to tears. I am humbled because I realize how I misjudged you." -
Babaal Khate

"NAS is a guy who has a very broad knowledge of various subjects like economics, technology, entertainment, world news and politics, among many others. However, he is a fun loving and a pragmatic guy who could change himself as per the situation. Keep up your personality NAS. You are one of the gems of SAJHA". – collegefootballrocks
"
You are the entertainer no.1 of sajha.
Everyone loves you." -
deepocean
"I found him just a silly and dirty minded psycho person. Such a lust and dirty persons only try to break the faith of human beings.Its better to stop him to spread more vulgarious photoes and video who is extreamly violating the soberness of sajha .com." - hell n heaven

"Nas...His Sajha persona comes off as a flaming pervert, eccentrically paranoid who sees conspiracy everywhere, and more of a dumbass given his "birther" rantings. But then, there are many more folks here in Sajha who come off as so downright despicable that I find Nas as much milder character. " - Riten bro


"NAS bro is an attention seeking whore" – terrypandi
"he is a retarded bastard" – geek1

"If there was any such award as the most Controvertial Sajha User then Nas would get that award hands down!"
-
San bro
"sajha without nas is like computer without internet , class without teacher, car without gas" – rajeshdai

"
Nas isn't a single person, but a group of users
" – chaurey

"
Nas is a once in a life phenomenon in a site like this
" – YoTaBhayanaNiSom

"smart—->sick—->a little psycho" – violet7
"Nas ji, ...Its guys like you who make me completely lose hope in Nepali guys. I am not used to Nepali men like you and when I come across one, I just don't give a shit. There is absolutely no dignity and sense of respect for women in your words. Looking at how you objectify women and talk down on them makes me feel like you had no ideal "woman" figure to look upto growing up. I just pity people like you." – Aviatorchik
"i find his personality very surprising or i can say person with multiple personality." – curious gal

"Nas....I .. would want to request to you to stop playing with the lives of girls... not just me, but demeaning, rude and disrespecting posts about any female." -
Nepalese Mega Star Priyanka Karkiji


"..out of thousands of Sajha Users, NAS has a unique Charater of his own..his thread headline..writing style and presentaiton..its wonderful." - Sexy In Sari

"..you are special Nas....:) " -
Ambroisa


"...you are a definition of - a crush that I can never have, see or feel :)"
- MercyNova
"I found u the most lovable and amazing ..FRIENDLY...person. Whether I will be here in sajha or not but I will certainly be ur good friend forever.
U Really Deserve a place in my heart....." - Samikshya


"Just stopping by to show u the love,admiration,support and respect i have for you. One day u questioned me why i admire you so much?I guess you have gotten your answer by

now.Man

u are so much famous in Sajha.Everyone talks about you.Thanks to them, i bothered myself to dig about you. And i found that u are the most generous ,humble,forgiving ,loving , daring , creative ,gutsy,entertaining and the list goes on and on….person in Sajha. If Sajha is a home, i enter sajha to find your

company.You

have made it lively with the best possible way u

could.Trust

me , i feel Sajha and Nas are Synonym words."
- Chiya
.
Gifted to me by my Lovely
Chiya
.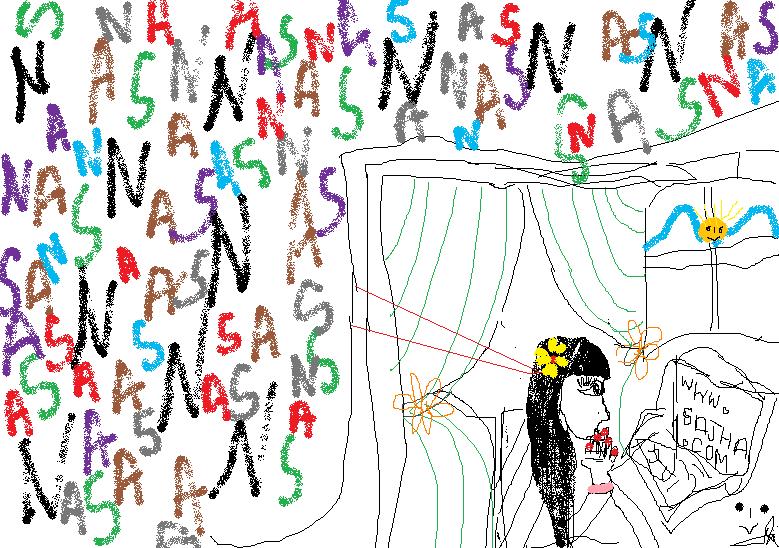 Won "
Sajha Programmer Award
" held by
HelpJava11
bro.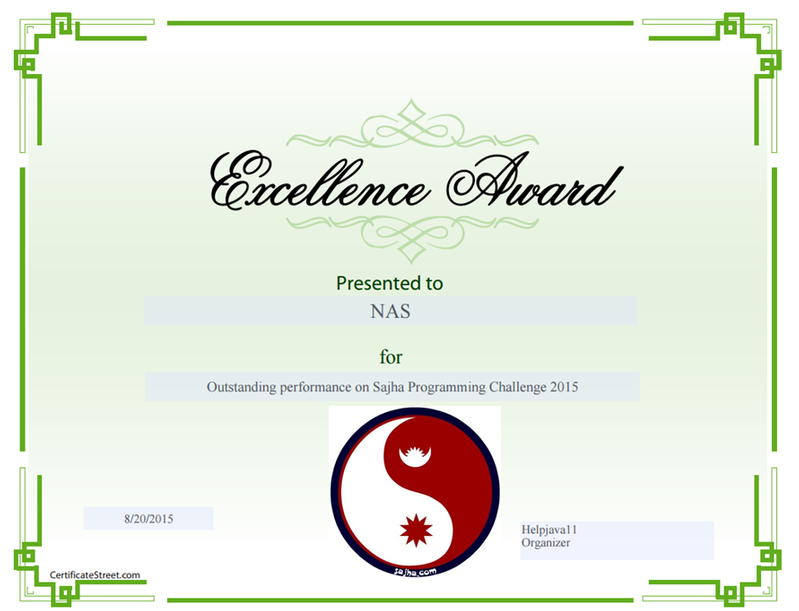 Awarded "
Sajha Boka Hasti 2015
" by
Punter bro
for "
outstanding boka posts
" !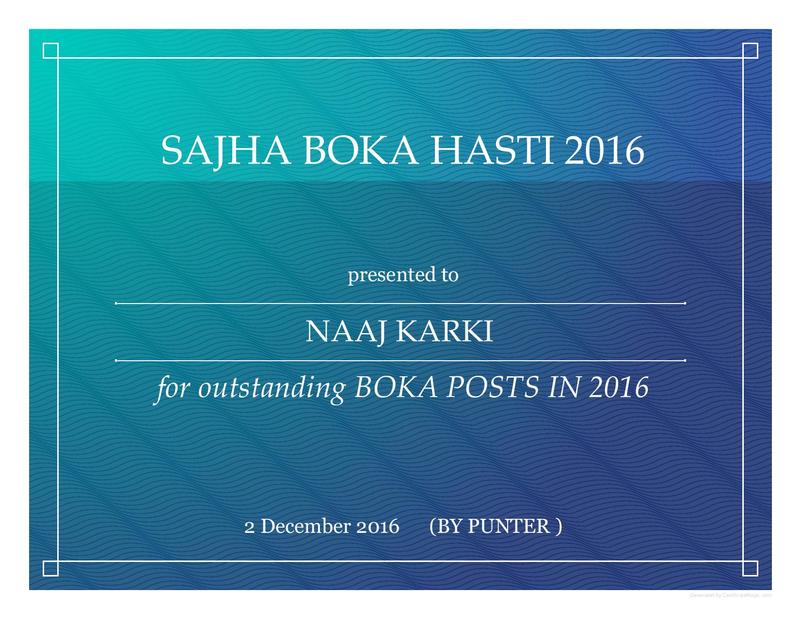 Portrait of my beloved Vauju Keki Adhikari, gifted to me by our DK.Hanal bro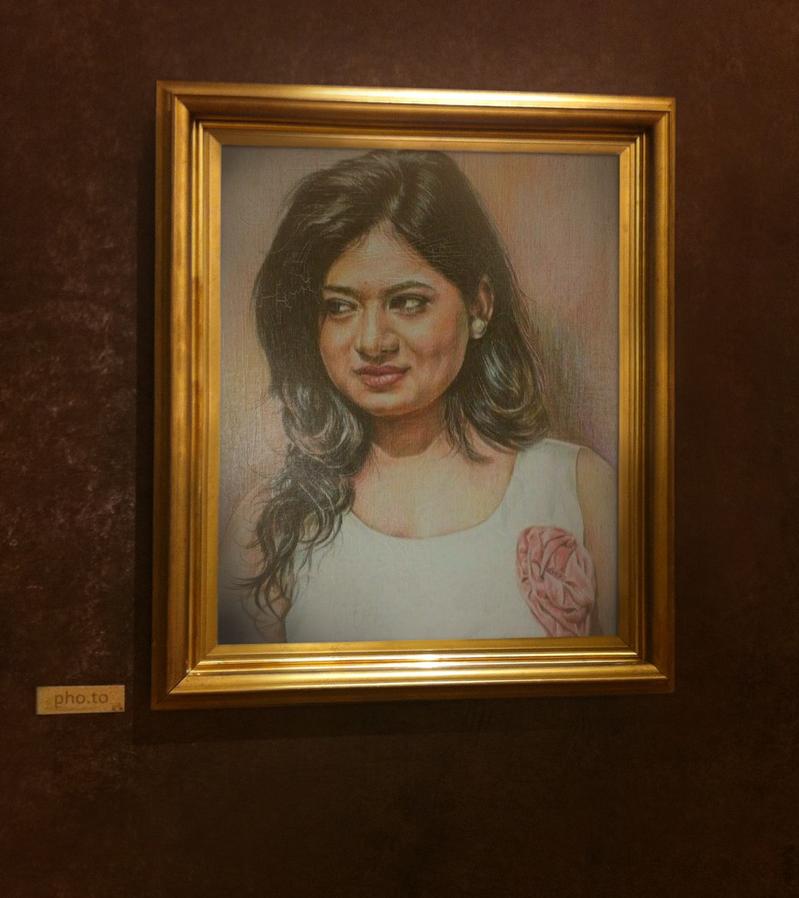 Dream Vacation with my eternal beloved love of my life. (Which is just a dream so far ! )